In the time it took to read this, you could have been writing code
Clovyr Code is remote development made simple, flexible, and open. Run VSCode in your browser, connected to any public or private git repository.
Your code is your business, not ours. Clovyr Code connects and communicates directly with your git host, without sharing any credentials or information with anyone else, including us. It's that cozy feeling of developing locally on a machine you control, with the freedom to never worry about setting up project-specific environments again.
Code is in early access right now, so there are lots of features you can expect to see arrive over the rest of this year. From deploying anywhere in a few clicks to sharing reproducible, project-specific builds with a simple docker file, we're making decentralized, self-hosted serverless a thing.
Want to try it out? Go ahead and paste in the URL of any git repo you can access. There's no signup required.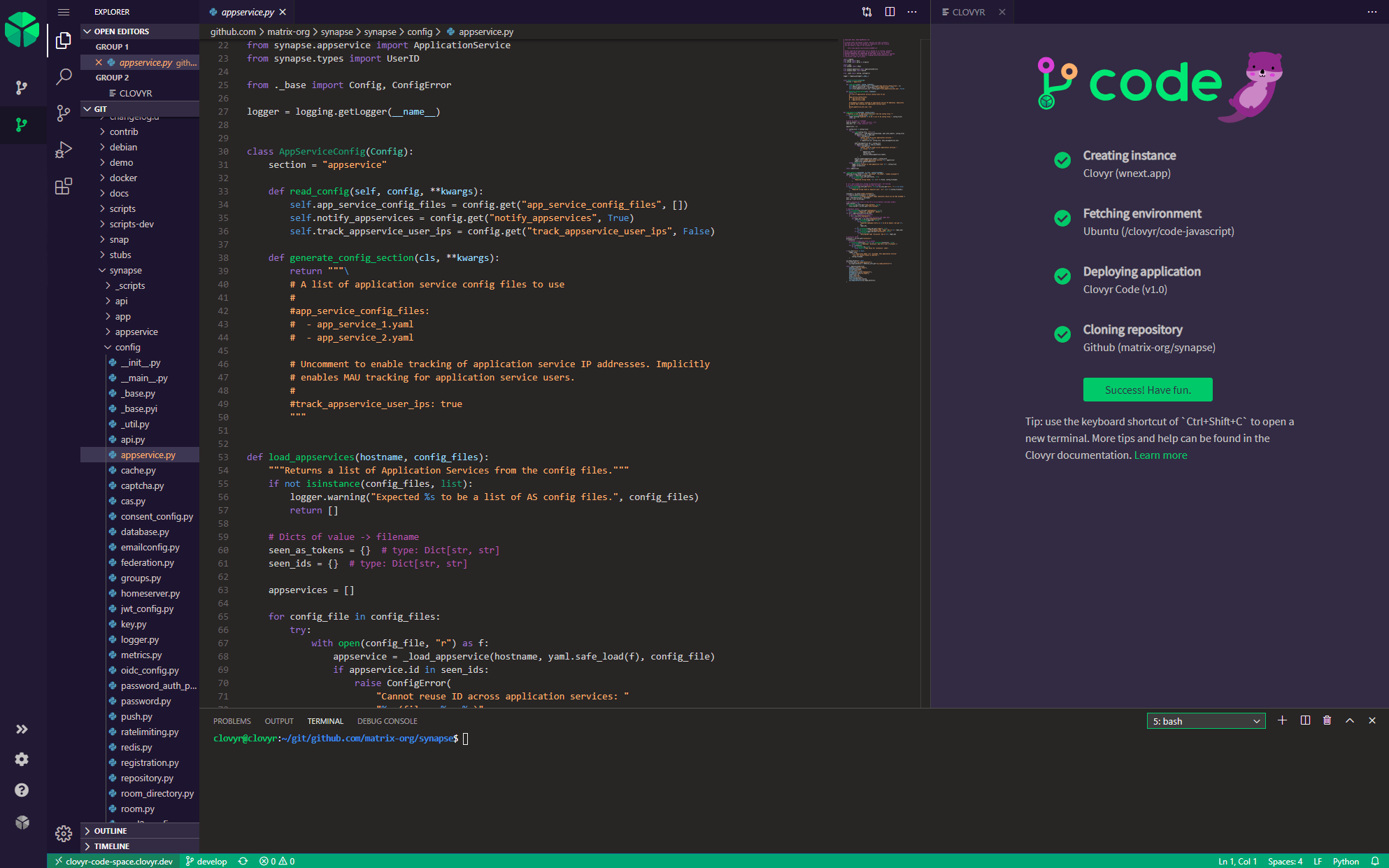 Web-based VSCode environments, built on-demand for any cloud provider.Clovyr.app runs entirely in your browser and connects directly to a VPS that's just for you, so you can manage your Clovyr Code instances with ease.
Connect to public or private repos on any git host, anywhere.Finally, a consistent workflow and seamless switching between all your community, work, and personal projects.
Development environments come pre-loaded with popular tools for working in your favorite languages.Start with a clean Ubuntu or pre-installed tooling like Node and npm.
The seamlessness of serverless, with the privacy and control of local development.Clovyr Code requires only a web browser, and connects directly to your personal instance without any information passing through Clovyr servers.
Powered by open source and full-featured VSCode.Install VSCode extensions and configure a Clovyr Code instance to make starting new projects super fast. Soon you'll be able to share these reproducible setups with your team and your favorite open source community
Coming soon: Make it easier for people to contribute to your open source project.Share pre-configured developer environments that deploy instantly to a contributor's own host. No more writing cloud-specific install scripts or expecting volunteers to navigate a sea of docs.
Better tools, better solutions, happier teams
Clovyr brings the flexibility and ease of use of modern application development to next-generation applications: ones that help businesses connect in new ways while keeping sensitive data safe. Create, deploy, manage, and extend applications whether they cross departments, companies, or industries.
At Clovyr, we think differently. We think you shouldn't just have API access to someone else's infrastructure, you should control your own. We think both small teams and large enterprises deserve the convenience of SaaS and serverless architecture without having to share access credentials with third parties (including us). We think security isn't a checkbox, it's a mindset. We think you'll like it.
Casual
Get started:
15 hours per month
Public & private repos
No user data collection
No signup required
Developer
Get growing:
Unlimited hours
Public & private repos
No user data collection
Coming Soon: Encrypted multi-device sync
Teams
Developer tools, plus:
Dedicated team server
Reproducible, shareable builds
Remote collaboration tools
Cloud, on-prem, or your k8s
Access management
Enterprise
Code for Teams, plus:
Identity systems integration
No code on employee laptops
Fancy dashboards
Enterprise support